07 November 2008 - Swing Factor LIVE
LHC Cafe
18.00h

Entry: Free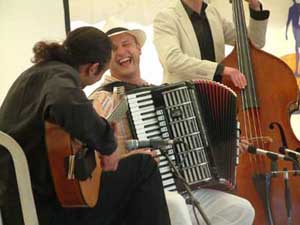 Description:
Swing factor is a extraordinary acoustical trio that combines the style of Django Reinhardt and Johnny Meyer into an enchanting Gipsy jazz/swing of the 20-ies. Besides swing the trio plays also French mussetes, tango, klezmer and East-European folk music.

Members:
Konstantin Iliev (clarinet), Senad Smajic (acoustic guitar), Samir Hodzic (accordion).